Farmers' Protests
Farmers and agricultural workers in India have been protesting against three farm bills that were passed by the Indian government in late September 2020. The bills favour big businesses over small farmers. The protests have escalated over the past few months as hundreds of thousands of farmers from Punjab and Haryana have marched on New Delhi, where they have been met by police with tear gas and water cannons.
These are the largest protests in history. Solidarity protests have taken place here in BC, in both the Lower Mainland and the Okanagan. Many British Columbians have family and friends in Punjab who will be negatively affected by these bills and have participated in the local protests.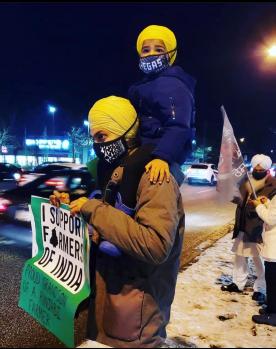 Members of HSA's Young Workers Action Group and our Labour Council delegates have been very active in encouraging their fellow labour activists to support striking farmers, and to condemn how the Indian government has responded to the strike. Now they are asking their fellow activists to send a letter -- using the tool below -- to their federal representatives, encouraging them to continue to stand in solidarity with the Indian farmers fighting for their livelihoods.